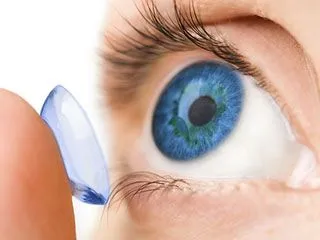 CFVC also prides itself on fitting a wide assortment of the latest and most technologically advanced soft and rigid gas permeable contact lenses to meet each patients individual and avocational needs. Whether you have nearsightedness or far sightedness (spherical fitting), astigmatism (toric fitting), or presbyopia (multifocal fitting) there are many options to explore that we'd be happy to discuss with you.
Regular contact lens fittings are important to ensure the cornea (front surface of the eyes) is healthy and that the lenses fit appropriately. Doctor examinations, material and type of lens, hygiene, and proper cleaning/care regimen help reduce the risk of infection and loss of vision.
Types of contact lenses include:
Daily Wear Contacts
Contacts for Dry Eye
Bifocal/Multifocal Contacts
Contacts for Astigmatism
Gas Permeable Contacts (RGP)
Coloured Contacts
Scleral Lenses
Specialty Fits
Oxygenation Dailies
Evaluation
Prior to prescribing contact lenses, Dr. Mathew determines what level of vision correction you require. Refractive error (commonly known as nearsightedness, farsightedness, or astigmatism depending on the error) is evaluated by measuring how the eyes focus when a series of different lenses are placed in front of them. Dr. Mathew may use either a phoropter or an automated instrument to take these measurements. It is imperative to do the evaluation on a yearly basis even if you have worn contacts for any length of time. There are multiple factors that need to be determined if your eye is still in optimal health to continue the use of contact lenses and Dr. Mathew will discuss all of this with you at your comprehensive examination. To schedule an appointment for a vision evaluation with our Leander optometrist, call 512-337-4283 today.
Corrective Lenses
After determining the level of refractive error, Dr. Mathew works with you to determine whether contact lenses or glasses are best for your lifestyle. If you suffer from certain conditions, such as dry eye or allergies, glasses may be the most comfortable corrective solution. Contact lenses are available in either soft or rigid gas permeable form. Contact lenses need to be changed daily, weekly, bi-weekly, or monthly, depending on what type of lens you select. Specialized contact lenses, such as bifocal contact lenses, are also available for patients with special eye conditions. Call us at 512-337-4283 if you are interested in learning if contact lenses are a good fit for you.